Meccano Tyres - 1 - Early Tyres
4 September 2016 | Admin
Meccano Tyres - 1
Early Tyres
Meccano tyres have always been an integral part of the system, as there are many examples of wheeled models, both large and small. Most Meccano tyres are designed to fit on pulleys, (although there are some special wheel centres too!), and are categorised by the size of the pulley they are designed to fit. So, for example, a 3 inch tyre (Part 142a) is designed to fit on a 3 inch pulley (Part 19b), even though the overall diameter of the tyre is 4¼".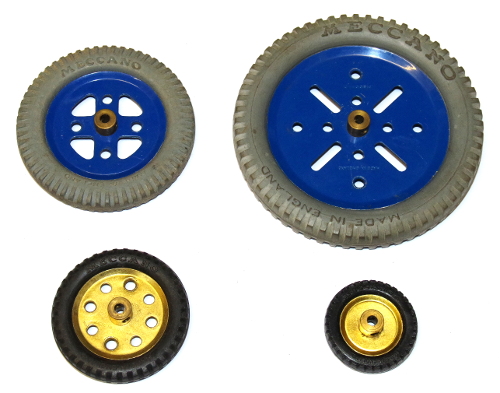 The 4 main early tyres types are shown here - 2" and 3" with blue pulleys in grey and 1½" and 1" in black on brass pulleys. The tyres were produced with various markings (some were labelled 'Dunlop' in an early marketing tie in!), and in grey or black rubber and then in plastic in later years. Warming the tyres up in hot water can help make them more pliable and easier to get them onto the rims!
The 1½" tyre was only available as a spare part from Meccano, and was never included in any of the standard sets.
The part numbers for the standard Meccano and reproduction tyres are as follows.
For 3" Pulley - 142b and Reproduction Part - 142l
For 2" Pulley - 142a and Reproduction Part - 142m
For 1½" Pulley - 142d and Heavy Duty Reproduction Part 142dh
For 1" Pulley - 142c and Heavy Duty Reproduction Part 142p
The standard Meccano tyres pictured above were best suited to models dating until the 1950s, as after that date vehicle tyres tended to become wider in the search for improved road holding and handling.
The reproduction tyres are slightly more modern in appearance, being slightly wider. The 1" and 1½" tyre are available in 'Heavy Duty' variations, these have a deeper sidewall, giving an increased overall diameter. The 1½" tyre is only available in the 'Heavy Duty' format, but the 1" tyre comes in both standard and 'Heavy Duty' variations.
You can see the differences below, the standard part is on the right hand side of each size set.