Meccano Tyres - 5 - Later Wheels
1 Comment
8 September 2016 |
Admin
Meccano Tyres - 5
Later Wheels
The introduction of the Army and Highway Multikit sets in the 1970s introduced a series of wheels which simply pushed on to the axles, these were followed by other smaller rubber tyres in later kits.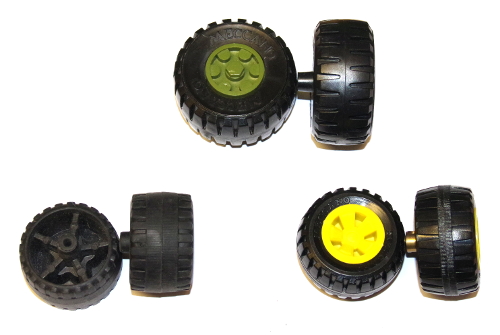 At the top, the Highway and Army wheel part 322. These were essentially the same, with a different colour centre - olive green for army, and red for the highway part. These were made from hard plastic and were 2¼" diameter and just over 1" wide. The wheel shown bottom right was also made from hard plastic, although it has an integral brass bush for attaching it to an axle. It is part number 187g, and is 2" diameter and 1" wide. On the left, is part 331n, this part is made from soft rubber, is 1¾" diameter and 1¼" wide. It will push fit onto a standard Meccano axle.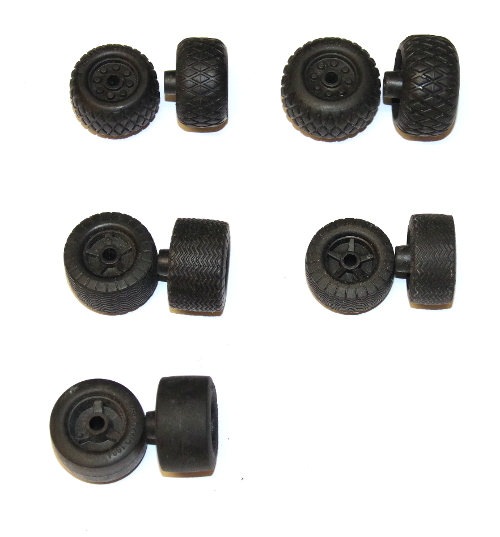 Next in this section, there are 5 different small push on tyres all made from soft rubber. From the top, they are 187k (left) and 187j (right). These are balloon tyres of 25mm and 28mm diameter. In the centre, 187n (left) and 187p (right) 5 spoke wheels, both 25mm diameter but with 15mm and 12mm widths. Lastly at the bottom is 187h, which is 25mm diameter and 14mm wide.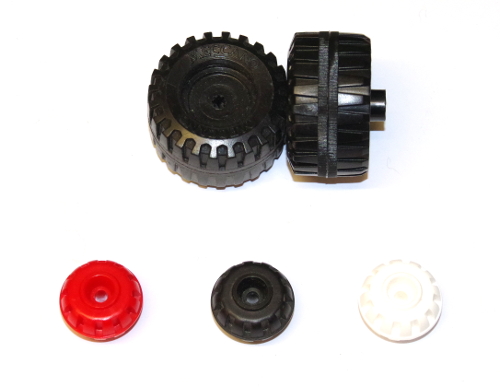 Finally, some more hard plastic push on tyres. The 1¾" diameter by 1" wide part 331 and the smaller balloon tyre 187f, which is available in red, black and white.